Below is a list of updates and changes to the software, from the very start to the most recent version.
This is an overview how Datawrapper has evolved so far. For major features listed below we link to tutorials in order to let you use a certain feature right away.
2016
Datawrapper 1.11.1
• Improved date parsing
Datawrapper 1.11.0
• requires PHP 5.6
• can store chart CSVs and thumbnails on S3
• allow visualizations to define annotate-options
• add UserOrganization-role "owner"
• Self-hosted installations: You need to migrate the database schema, see migration
• re-ordered top navigation bar
• new one-page account settings
Datawrapper 1.10.2
• added support for generic inline editing
• introduced core hooks for plugin install/update/uninstall
• several bug fixes
• added settings-column for organizations to store organization-wide preferences
• Self-hosted installations: You need to migrate the database schema, see commit message
• re-designed tab control and timeline
Datawrapper 1.10.1
• added signup confirmation step
• bug-fixes for label placement in core chart types
2015
Datawrapper 1.10
We released Datawrapper 1.10 in November 2015 with a number of new features. Before doing that worked extensively on the software core of Datawrapper to set the stage for additional updates of chart types, other functionalities and improved stability in the backend.
Computed Columns
The most notable new feature in Datawrapper 1.10 is what we call "computed columns". Users now can add new columns to a dataset in which the values are being computed using a custom formula, similar to how you would add a new column in Excel. There is a more detailed tutorial how to use this feature to enhance your charts or maps with additional insights.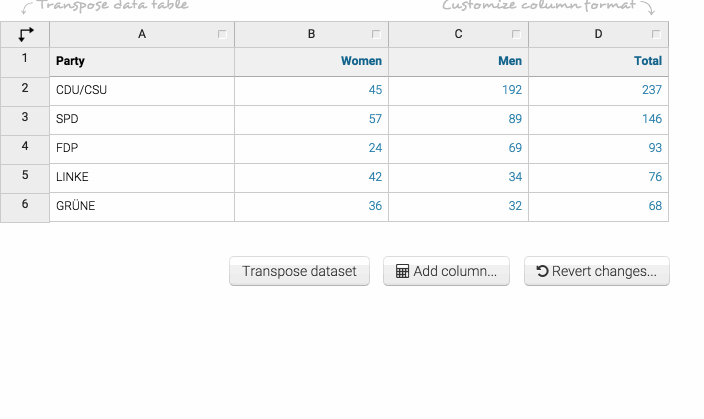 Highlighting changes in data table
The spreadsheet component in the second step of Datawrapper makes it easy to edit individual values in your dataset. But how do you keep track of the changes made? As of version 1.10 Datawrapper will highlight the cells that have been changed since upload.



Team owners can self-manage their teams
This feature is relevant for Datawrapper Team users. Now, the users having access to the tool manage their team themselves. Adding existing users into a team or inviting users without Datawrapper accounts is simple and quick. Which means you don't have to ask us to add a colleague to Datawrapper.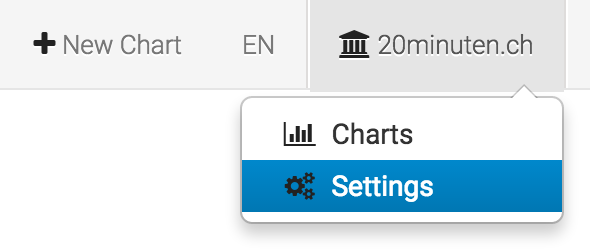 Datawrapper 1.9.7
• re-designed mycharts and gallery, now showing more charts in a masonry layout
• fixed client-side snapshots using canvg. works with html and text. creates double-res fullsiye screenshots instead of tiny thumbnails
• made sure that snapshots of complex charts are not generated on client-side, but using the new plugin "snapshot"
• loading js files as utf-8
• re-designed option groups in chart editor
• color changes in color selector popup are now immediately applied to chart
• vis axes can now specify a regex for better auto-matching based on column names
minor css fixes in chart editor
Datawapper 1.9.6
• added hook for when all plugins are loaded
• updated to underscore 1.8.3
• activating gzip compression
• embedding chart data in page instead of loading it every time
• minor bugfixes
Datawrapper 1.9.5
• the chart publish directory can now be configured
• minor bugfixes
Datawrapper 1.9.4
• allow setting of relative chart widths (e.g. 100%)
• reload chart iframe on ctrl-r
• updated marriages dataset
• improved chart thumbnail generation
• removed admin-dashboard from core
always redirecting from /admin to first admin page
• several bugfixes and performance improvements
Datawrapper 1.9.3
• new hook USER_ACTIVATED
• improve SSL support with complex webserver/proxy setups
• showing user names in user admin
• a couple of bugfixes
Datawrapper 1.9.2
• removed 'input format' dropdown in describe step
• updated handsontable to version 0.12.3
• bugfixes
Datawrapper 1.9.1
• bugfixes
Datawrapper 1.9.0
Additional field for notes in charts: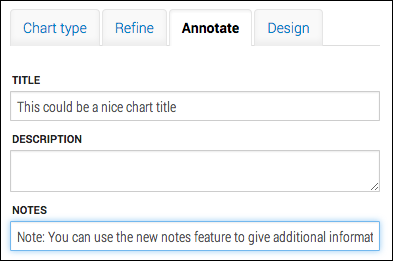 Here is a screenshot how the notes look in a published chart:

Other changes:
• allow adding of notes below charts
• grouping of vis options in chart editor
• load js libs in reverse order of vis inheritance
• bugfixes with cli publishing
• fixed automatic number format guessing
• replaced old dw.js make script with Gruntfile.js
• admin-themes now shows when themes have been last used
• added hook for adding markup below describe step sidebar
• changed syntax to plugin.php download [giturl]
2014
Datawrapper 1.8.2
• bugfix with data table in describe step
• allow hiding of admin controllers in admin menu
• fixed deleting charts
• several minor bug fixes
Datawrapper 1.8.1
• added link to mycharts to account pages menu
• simplified api for alternative signins
• prevent chart previews to be rendered in iframes (optional)
• removed obsolete controller /chart/:chart_id/static
Datawrapper 1.8.0 (December 2014)
Major new features in 1.8
The chart editor got a redesign including a switch of the default font.
In line charts the user can annotate time ranges in the chart.
Also the line chart got a new "custom range" setting that replaces a the existing settings "Extend range to nice ticks" (you can just pick your own axis range!) and "invert y-axis" (simply switch min and max in custom range) .
We added a new default theme for Datawrapper Single users that has no "Created with Datawrapper".
Under the hood
We made Datawrapper ready for per-user plugin assignments, which is the basis for Datawrapper Single. Note that this change doesn't affect self-hosted instances in any way: you can use Datawrapper as before.
Simplified plugin development: no need for a complicated plugin class (plugin.php) anymore, instead you can now add a script init.php.
There is a new automake mode (add "automake: true" to your config.yaml) for easier plugin development.
We removed all traces of the old email-based theme restrictions. To restrict a theme to certain users or groups, use products and/or organizations.
Allowed configuration of mail sender
If a plugin gets installed, Datawrapper is trying to autoload the plugin dependencies if the plugin uses composer
We refactored the Datawrapper core CSS using LESS.
Bugfixes
Removed fancy toggle-panel footer in default theme. Simple links work, too.
Line charts don't loose their labels when viewed in less than 400px anymore.
Update notes
We made changes to the database schema: Please execute scripts/migrate/1.8.0.sql after updating the code.
Also we started using Composer for managing backend dependencies. Please run composer install updating.
• added product system.
• important note: Please run scripts/migrate/1.8.0.sql and composer install after updating.
• removed email-based theme restrictions
• removed plugin export-image from core
• instanciate all plugins first, then run their init() functions
• chart editor redesign
• default theme for organizations
• added support for class-less plugins
• automake mode for easier development
• added twig filter 'css'
• refactored stylesheets using LESS
• simplified plugin system, added support for init.php
• autoloading plugin dependencies if installed using composer
• allow configuration of mail sender
• line chart: custom range in y axis
• line chart: x range annotations
• removed fancy toggle-panel footer
• fixed stupid line chart mobile bug
Datawrapper 1.7.11
• fixed symlink creation in plugin installation
• reloading chart preview if chart locale changes
• resolving plugin names from class name, not path
• fixed user deletion api
Datawrapper 1.7.10
• load chart specific locale, if different from UI
• allow hooking into visualize step sidebar
• removed vendor libs from repo
• made Datawrapper Composer-ready
• do not send email activation mails when the email address has not been altered
• minor improvements for the account settings
• fixed delete-account button
• fixed XSS vulnerability
• replaced ext-mysql with PDO in the session handler
• do not use the mysql extension in the check_server script
• cleaned up makefile
• replaces JSMin with JShrink
Datawrapper 1.7.9
• refactored controller code base
• refactored account templates
• allowing access to plugin classes
• bugfixes
Datawrapper 1.7.8
• re-structured header navbar
• added font awesome
• allow filtering of missing values in bar charts
• tooltips in header navbar
Datawrapper 1.7.7
• switched top nav from fixed to static
• added vis option textarea
• flattened navbar appearance
• added hook for customizing navbar logo
Datawrapper 1.7.6
• disabled fullscreen mode in default theme
• fixed gallery preview
• allowed disabling of login logging
• renamed cdn_asset_base_url config to asset_domain
Datawrapper 1.7.5
• user settings: don't complain about existing email if it hasn't been changed
• let admins reset a users password
• replacing n-dashes with normal dashes (increasing tolerance for bad copy & paste input)
• ignoring percentage signs in data input
Datawrapper 1.7.4
• added json api for themes
• forcing lowercase organization ids
Datawrapper 1.7.3
• enabled setting initial sorting of data tables
• fixed chart display on mobile devices
Datawrapper 1.7.2
• fixed access rights for graphic editors
• showing more useful page titles
• removed legacy code
Datawrapper 1.7.1
• replaced hard-coded CDN path with config value
• bugfix: duplicating charts within organization
• bugfix: pie charts with zeros in dataset
• bugfix: include organization id in md5 hash computation to make sure assets are copied to different S3 buckets
• bugfix: chart publication progress now shown properly
Datawrapper 1.7.0
• storing reference to source chart on forking/duplicating
• data attributes in header nav
• support hooking into header nav
• re-arranged header nav
• showing lang code in header nav
• added speaking descriptions to core plugins
• added api for managing organizations
• allowing organziation specific plugin configuration
• allowing users in organization to use private plugins
• support for making plugins private
• added organizations
• svg icons for visualization
• replaced old color picker
2013
Datawrapper 1.6.2
• revised event flow in visualize step
• made pie charts less ugly
• added placeholder image for nojs.png
• fixed bar chart labels
• fixed highlighting of labels with quotes
• line chart: fallback to normal x-axis if not all date values could be parsed
• line chart: fixed label width calculation
• line chart: allowing more lines to be labeled
• removing all related jobs on chart deletion
Datawrapper 1.6.1
• allow users to select column input format (to resolve ambiguous formats)
• bugfixes
Datawrapper 1.6 (1. Nov. 2013)
Inline editing of chart title, description and labels
We simplified annotation of charts by supporting inline editing of chart title, description and labels directly in the chart. The changes are stored immediately. Using the inline editing is optional as you can still use the data table or the other UI elements to achieve the same effect.
Quicker navigation through your recent charts
The My Charts menu point now opens a drop down menu of your nine most recent charts to let you navigate to them more quickly.
Rounding numbers to significant digits
Datawrapper supports a smart way of rounding numbers using significant digits. This is useful especially if the numbers in your dataset vary across different orders of magnitude and you want to show a constant precision. In contrast, rounding to a fixed number of decimal places has the negative side-effect of either cutting of important details or adding useless zeros.

Logarithmic scales in line charts
The line chart in Datawrapper is now able to show data on a logarithmic scale. You can let the user switch between log and linear scales, just as you can see in this chart. The setting will be available only for charts were it makes sense (positive values which at least differ in three orders of magnitudes).
Support for OAuth sign-in
Datawrapper supports sign-in using the OAuth standard. This not only makes it easier for new users to sign up if they already have accounts on Twitter or GitHub, but it also showcases how, for instance, a new organization can use their own user database instead of forcing all their editors to create new accounts. To see how this is implemented please take a look at the source code of the plugin that handles the Twitter sign-in.